Buy this Bundle & Save 5%!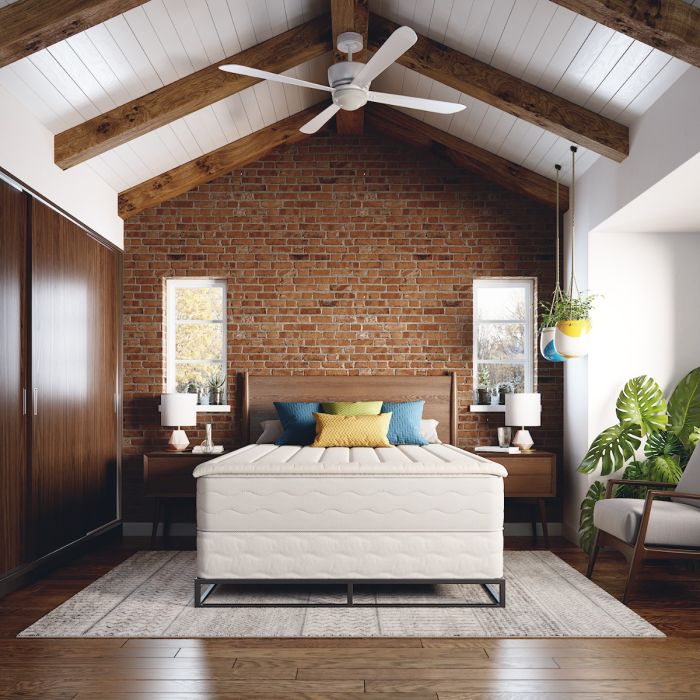 As low as
$1,338.00
Regular Price
$1,408.00
Customize your comfort with the upgraded version of our essentials bundle!
Included in this bundle:
LXP Mattress
Our premium mattress is made from wool, cotton, and plant fibers and supports your body with an innerspring coil system
Foundation
Our supportive foundation is made from Amish wood and is hand-assembled in Grand Rapids, MI
Mattress Pad
Our wool mattress pad provides breatheable, natural protection for your mattress
Try in-home 120 nights, easy returns & 100% satisfaction guarantee.

Natural Materials
Sourced from
Mother Nature

Free Delivery
Enjoy fast & free
UPS Shipping
120 Night Trial
Try it for 120 nights,
like it or return it

Made in USA
Grand Rapids, MI,
to be exact
How the Joybed LXP feels
Your Choice for Comfort:
5
Medium-Firm
Pushes back against your body for a firm, supportive feel with cushion. Recommended for back sleepers and those who prefer a firmer sleeping surface. On a firmness scale of 1 to 10, it's a 5.
7
Medium-Plush
Provides a cushioned and conforming feel while still providing proper support. Recommended for side sleepers and back sleepers. On a firmness scale of 1 to 10, it's 7 (10 is the softest.)

Expert Tip
We recommend the LXP Medium-Plush if you're a side sleeper or want to avoid a firmer-feeling mattress. Softer springs are the difference, everything else is identical.
Product Details
Dimensions
LXP Mattress
Twin
75"L x 38"W x 12"H
76 lbs
Twin XL
80"L x 38"W x 12"H
78 lbs
Full
75"L x 53"W x 12"H
101 lbs
Queen
80"L x 60"W x 12"H
123 lbs
King
80"L x 76"W x 12"H
148 lbs
Cal King
84"L x 72"W x 12"H
142 lbs
---
Foundation
Height
Standard: 9" | Low Profile: 6"
---
Mattress Pad
Cal King
72" by 84" x 1/2"
---
Bundle Item Numbers
Twin
Med-Firm/Standard Code: 99200603
Med-Plush/Standard Code: 99200615
Med-Firm/Low Profile Code: 99200597
Med-Plush/Low Profile Code: 99200609
Twin XL
Med-Firm/Standard Code: 99200604
Med-Plush/Standard Code: 99200616
Med-Firm/Low Profile Code: 99200598
Med-Plush/Low Profile Code: 99200610
Full
Med-Firm/Standard Code: 99200605
Med-Plush/Standard Code: 99200617
Med-Firm/Low Profile Code: 99200599
Med-Plush/Low Profile Code: 99200611
Queen
Med-Firm/Standard Code: 99200606
Med-Plush/Standard Code: 99200618
Med-Firm/Low Profile Code: 99200600
Med-Plush/Low Profile Code: 99200612
King
Med-Firm/Standard Code: 99200608
Med-Plush/Standard Code: 99200620
Med-Firm/Low Profile Code: 99200602
Med-Plush/Low Profile Code: 99200614
Cal King
Med-Firm/Standard Code: 99200607
Med-Plush/Standard Code: 99200619
Med-Firm/Low Profile Code: 99200601
Med-Plush/Low Profile Code: 99200613
Mattress Materials & Coils
All the materials come from American suppliers. From the top down:
We start with an innovative top layer of plant fiber woven to provide fire protection, naturally. Without chemicals, potato and bean plants are woven into a layer creating a safe, fire-resistant mattress. And because it's plant-based, it's also breathable and adds to your sleeping comfort.
Next, we use 2 layers of soft cotton we've sourced from a southern, family-owned American supplier. Cotton fibers are naturally soft and breathable, allowing air to circulate around your body. The fiber's superior structure helps wick away and release body moisture as you sleep. Your sleep is improved in a dry and comfortable environment which helps you sleep better and wake more rejuvenated in the morning – a key to a healthier life! Cotton is naturally hypoallergenic keeping a clean and healthy sleeping environment without the use of chemicals. In fact, cotton farming is regulated by the USDA as a food crop, in addition to being annually renewable, recyclable and biodegradable. Cotton is also more durable than foam and will hold its loft longer than foam, which compresses faster than cotton over time.
Underneath the cotton is a layer of wool. Unlike synthetic fibers which are smooth, wool fibers have a textured surface that holds large amounts of air serving as a year-round comfort layer keeping you cool and dry as you sleep. Wool helps regulate your sleeping temperature by keeping you cool when it's hot and keeping you warm when it's cold. Wool also helps wick moisture away as you sleep keeping you dry. When your body is able to sleep in a breathable bed that's cool and dry, you're able to sleep deeper, longer and awake feeling stronger and more alert. Wool's fiber structure also has the added benefit of being naturally fire-resistant. Learn More About Cotton & Wool.
We then put 2 more layers of cotton padding, firmer feeling, and woven to help provide the support underneath the softer layers above.
There's a premium layer of nano coils in between the natural layers above and the individual innerspring coils below. Nano coils are typically found in higher-end luxury mattresses, and we've made then part of the LXP. The reason they're so good is that they're great at conforming to your body as well as being responsive to your movements while at the same time being very durable ensuring a long life of consistent performance. In fact, Nano coils are more durable and last longer than foam (just like natural fibers do, too.)
All of the above materials are supported by individual coils that contour to your body and provide proper support. The coils are zoned for comfort, specifically, those targeting the hips, back and shoulders are tuned for firmness, density, and bounce. There's also a column of coils along the outer edges providing robust edge support so you can sit or rest comfortably all the way to the edge of the bed. They're encased in a synthetic wrap, rare use of man-made materials (less than .01% of the mattress by weight.) We even use a plant-based glue to adhere certain materials in the spring system.

LXP Medium-Firm: The number of individual coils by size (plus the number of nano coils):


King 1414 + 1764 nano coils
Cal King 1384 + 1760 nano coils
Queen 1130 + 1386 nano coils
Full 1016 + 1131 nano coils
Twin XL 772 + 840 nano coils
Twin 756 + 780 nano coils
Details
Mattress Cover
We chose an organic cotton cover to encase the mattress, so the surface you actually sleep on is organic. The organic cotton fabric we use is certified by the Global Organic Textile Standard (GOTS).
The luxurious Jacquard weave is 100% organic fabric. Other mattress companies use organic cotton blended with polyester which is cheaper and easier to manufacture. They can be tricky with their marketing claiming they use organic cotton for their covers, which while technically true, misleads the fact that the cover is not 100% organic material. You can spot blended covers because they're stretchable when you pull on it with your fingers.
You'll also notice the hand tufting by our master craftsman. Only found on upper-end mattresses, hand tufting involves sewing durable string through mattress from top to bottom. You can see the decorative knots on top of the cover. The tufting helps keep all the materials in place and ensures a long consistently feeling lifespan of your mattress.
Foundation
Materials
Solid wood from an Ohio Amish supplier
Organic cotton fabric wrapped sides
Non-skid top cover
Assembled in Grand Rapids, MI
Mattress Pad
Materials
Washable British wool filling
270 thread count natural cotton percale cover
Care
Machine wash in cold water on gentle cycle & reduced agitation
Air dry only
5 year manufacturer warranty
Made in China
Safety
This mattress is tested and certified to meet all federal and state fire protection standards. As a matter of fact, all mattresses sold in the United States must pass the same set of standards and receive the same certification, ours included.
What makes our mattress special is that we meet fire protection standards using all-natural materials; wool, cotton, and a special fiber layer developed using bean and potato plants. With no chemicals or man-made materials, the natural fibers provide the requisite level of protection. And because they're natural, they'll also improve your sleeping comfort on the mattress by enhancing the breathable airflow through the bed!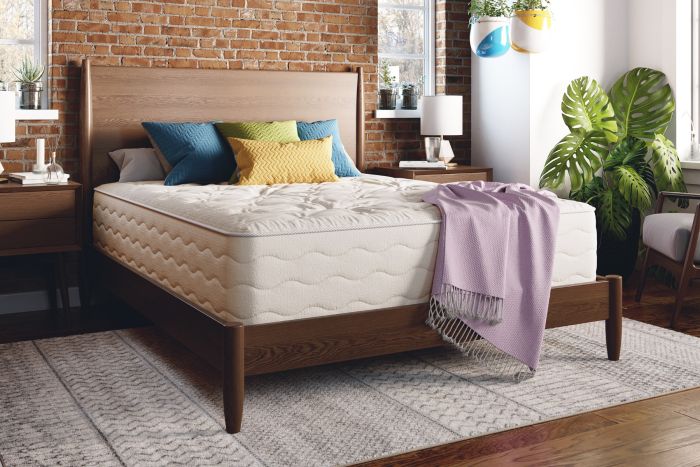 Joybed LXP Mattress
Try Joybed in your own home for 120 nights. We're confident you'll love it! But if for any reason you change your mind, we'll give you a full refund. Joybed comes with a 10-year warranty and our 100 year history - so you'll rest peacefully in confidence that we've got your back.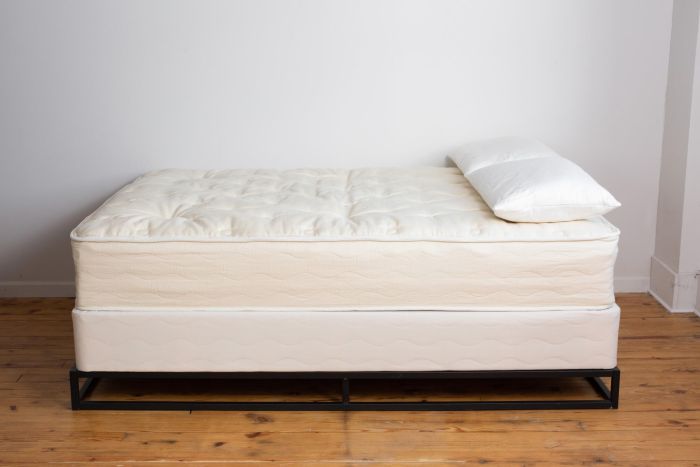 Foundation
The durable foundation is made of wood and fastened together with coated steel nails. It is side wrapped in the same organic cotton fabric as our Joybed LX mattress. A non-skid poly-cover material keeps the bed in place. In between the wood frame and the top cover is a layer of plant fiber to promote quiet support. Finally, a poly fabric dust cover on the bottom keeps the foundation clean on the inside.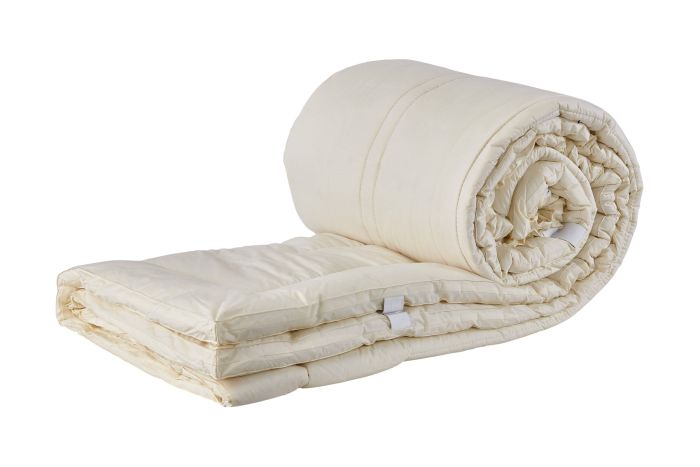 Natural Mattress Protection
It's important to protect your mattress naturally. If you put a synthetic protector on your natural bed, you're actually working against the benefits of the mattress because synthetic protectors don't breather as well as natural materials. Our natural mattress pad breathes with your natural mattress and absorbs smaller spills and stains. It's also conveniently machine washable to keep clean. And since it's made of wool, the pad is naturally hypoallergenic.
Shop Our Bundle Savings
Save 10%!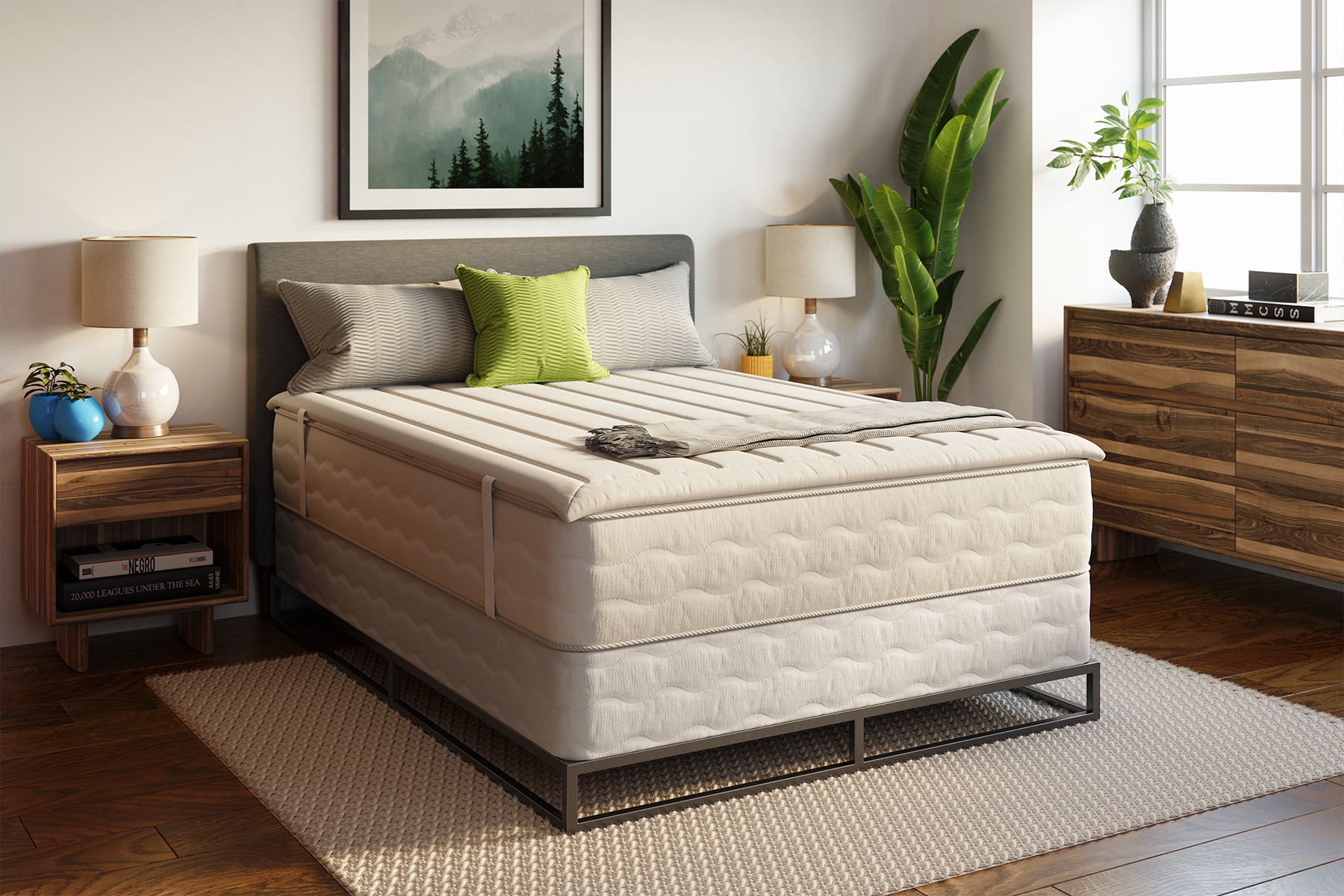 Essentials Bundle
Joybed LX Mattress
Foundation
Mattress Pad
$822 $913
Save 5%!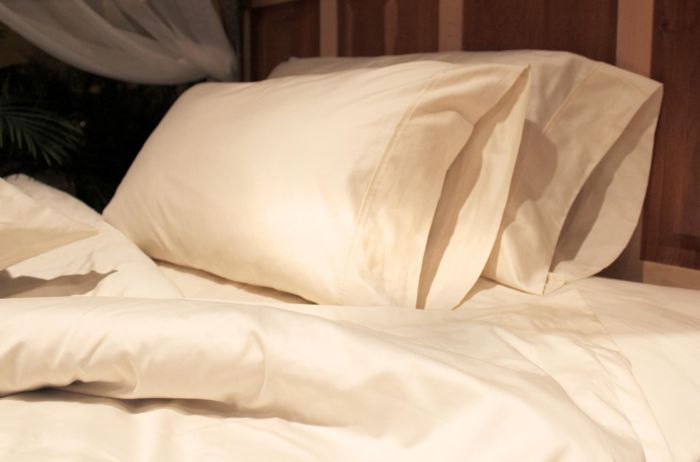 Sleep Cool Bundle
2 Pillows
Sheets
Dreamin' Vegan Blanket
$619 $652
Save 10%!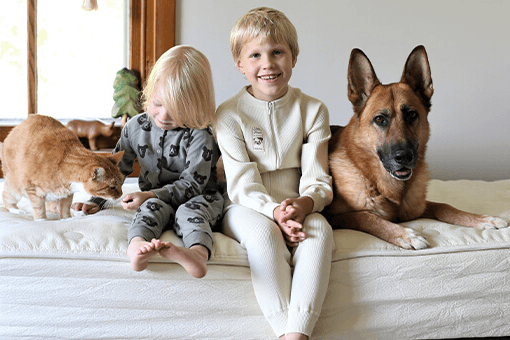 Kid's Bundle
Joybed LX Twin Mattress
Foundation
Mattress Protector
$813 $903
Customer Reviews