Get cozy with our 100% cotton blankets
25% off with code JOYBED25
Product Details
Overview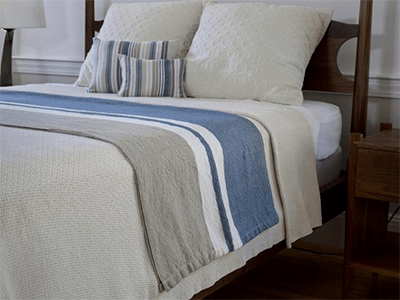 Our Dreamin' Vegan blankets will keep you warm all night long! They are 100% cotton and crafted in Maine, where local artisans carefully weave every inch by hand. These artisans use traditional weaving tactics that have stood the test of time, so your blanket can too.
Main Features
100% cotton
Eco-friendly color dyes made from non-toxic yarn
Handwoven on an antique shuttle loom
Made in the USA
Machine Washable
Dimensions
Twin
72" x 90"
Natural Item Number: 930747
Dove Gray Item Number: 930739
Shore Item Number: 930743
Full
80" x 90"
Natural Item Number: 930748
Dove Gray Item Number: 930740
Shore Item Number: 930744
Queen
90" x 90"
Natural Item Number: 930749
Dove Gray Item Number: 930741
Shore Item Number: 930745
King
110" x 90"
Natural Item Number: 930750
Dove Gray Item Number: 930742
Shore Item Number: 930746
Details & Care
Materials
100% Cotton
Care

Machine wash separately on short, gentle cycle with as much water as possible to allow for movement
Avoid harsh detergents
Use a liquid detergent without bleach or brighteners
Tumble dry
Made in Maine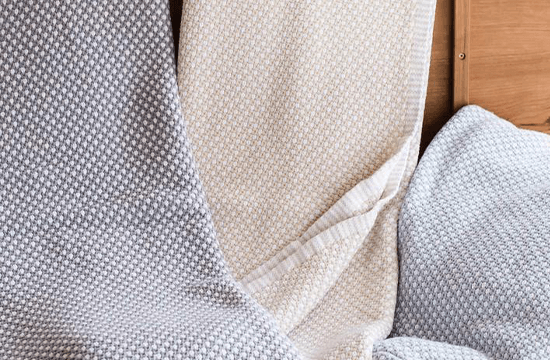 Dream On
Sleep comfortably and chemical-free with our Dreamin' Vegan blankets. These soft-to-the-touch, cozy blankets are handcrafted by local Maine artisans using materials sourced in and around the USA. Each blanket is handwoven on a traditional antique shuttle loom to get the high-quality stitch that will make your blanket withstand the test of time.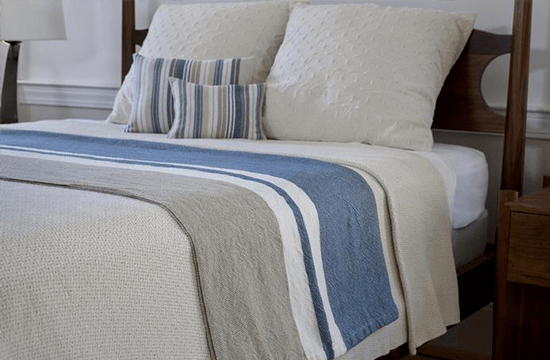 100% Cotton and Vegan Friendly
Every blanket is 100% cotton, allowing for maximum breathability and sweat-wicking while you sleep. They do not contain and added chemicals or toxins, even the color dyes used are eco-friendly. These blankets should be machine washed separately.
Customer Reviews